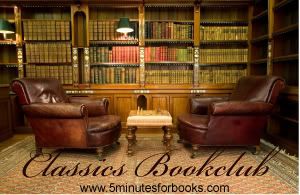 Remember how I joined
this challenge
over at 5 Minutes for Books? It's time to wrap up my first quarter's worth of classics.
Here is what I read so far (click on the book's link to take you to my full review):
Giant by Edna Ferber
: an fantastic look at Texas in the early part of last century. A famous movie with Elizabeth Taylor and James Dean was based on this book.
The Catcher in the Rye by J.D. Salinger
: Finally, I know what everyone's talking about when they bring up this book! I really enjoyed it, honestly and our online book group had an amazing discussion about it.
Charlie and the Chocolate Factory by Roald Dahl
: OH, have you read this? It's so wonderful. I read it out loud to my 7 year old son and what was great is that I think I enjoyed it just as much as he did.
The Westing Game by Ellen Raskin
: I hadn't ever read this one either, and after being told to several times, I finally found a copy at the thrift store and tried it out. What a clever, thoughtful and intriguing read. I like mysteries that keep me going until the end.