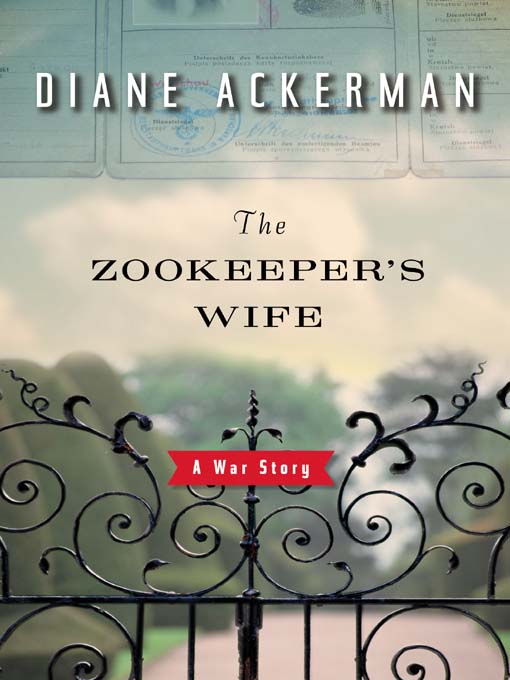 genre: history
rating: 5/5
To be honest, I would've been surprised if I hadn't liked this book. Everything I have read by Diane
Ackerman
has been exceptional - and this book certainly didn't disappoint.
The
Zookeeper's
Wife is Antonia
Zabinski
. She and her husband were running the Warsaw Zoo as World War II and its chaos began. From the beginning,
Ackerman
assures us that when we read about Antonia's feelings or thoughts, they are direct quotes from Antonia's (or her husband Jan's) writings or interviews. Because of her extensive research,
Ackerman
has written a history that reads, truly, like a novel. Zabinski and her family are fleshed out and real, their experiences concrete and frightening.
What makes Antonia and her zoo worth writing a book about is its place within the Underground in Warsaw during German occupation. Due to a string of
fortuitous
circumstances, the
Zabinski's
are able to stay in their home on the zoo grounds for most of the war. Not only do they just find a way for their family to survive, the zoo under their care becomes a haven and a stop over point for Jews who are escaping from Nazi tyranny. Hundreds of "guests" are hidden and sent on their way to
safety
elsewhere.
There are portions of this story that will wrench your heart out. It is a view of the war that I have never read - I had no idea of how encompassing the Polish Underground was and to what lengths so many non-Jews in Poland went in order to protect not only their neighbors, but scores of complete strangers.
Ackerman
weaves in Polish customs and culture, the natural history of the animals in Poland and at the zoo, as well as some of the Nazi party
officers
who were obsessed with animal breeding, and with Polish animals in particular.
Ackerman
is such a lyrical writer - poetic and precise. She tells this story without glossing over the horror, but she also rightly finds the just and honorable, celebrating the individuals who let their own concerns take second place to the greater human good. Antonia's story and other's like her need to have their stories told to remind us of all that is noble and selfless during times of war.